~~~




I'm a bit late blogging about this, and I blame it on my extreme laziness between July and August. However, browsing through The Fashion Spot, I chanced upon a picture of Frida Gustavsson in a gorgeous black Valentino from the 2009 Haute Couture collection, and was reminded once again how much I love it. All of it. The whole damn collection.

This Valentino show received so much hate, if I remember. Ever since Maria Grazia Chiuri and Pier Paolo Piccioli took over the design house from Valentino himself, they've been verbally abused on every fashion forum I've visited on the internet, and this collection was no exception. People said it 'wasn't Valentino enough'. It was too Alexander McQueen, too Lanvin, too Prada, or a sorry amalgamation of all the above. I care not.

Blasphemous as this might sound, the 'real' Valentino (not to imply that Chiuri and Piccioli are 'fake' Valentinos, you understand) never did all that much for me. I didn't dislike his couture confections, but they didn't send me over the moon either. Every runway show - haute couture or prêt-à-porter - just felt like a pleasantly pretty parade with lots of build-up and no culmination. On the other hand, I adore McQueen, Lanvin and Prada, so even if this collection felt like a rip-off of other designers, it wasn't the usual, predictable Valentino fare, nor was it a re-hash of the entire Valentino archive, like the last ready-to-wear show was. After taking away the word 'Valentino' and the naff comparisons, and just looking at the clothes for what they were... well, I liked what I saw.






The designers said they wanted to create 'a new shade of black', and although that's quite impossible, literally speaking, their approach to colour produced a collection that was extremely dark without being so black that it's boring. It wasn't flat. The fabrics were layered - sheer black over nude tones - to spawn shadowy webs and ripples. Lace, tulle, ruffles and feather-light sheer panels were draped so effectively that they never felt heavy (a trap black clothing tends to fall into).

I really loved how the whole collection read like a dark masquerade romance - very pretty but not cloying; floaty yet intense. The masks were a nice touch.

Up close, in some of the HQ photographs I found (far too large to post on this blog, as each image is several megabytes in size), the workmanship was so exquisite, precise and impeccable that I think pictures alone don't do the dresses much justice. One would probably have to view them in person to fully appreciate the subtle craftsmanship that went into all the pieces.


Vogue Italia featured the Valentino Haute Couture
dresses in their September 2009 issue:

(Click thumbnails to enlarge.)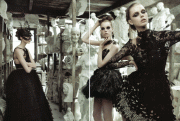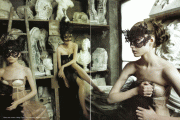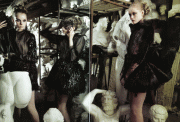 PHOTOGRAPHERS:
Sofia and Mauro
MODELS:

Gwen Loos, Hanna Rundlof and
Frida Gustavsson (who also opened the runway show)




Here are more pictures from the runway:


The shoes remind me a little of Hermes (the Greek God with winged feet, not the brand).